Top reasons for replacing your current Hotel PMS
March 1, 2016 Vipul Kapoor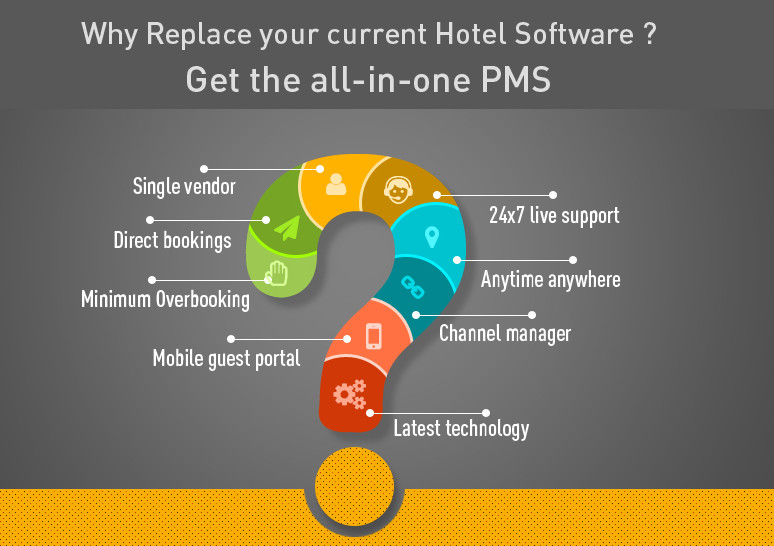 If you are reading this, chances are that you are already using a property management system for your hotel and contemplating changing the current system. You might have chosen a locally hosted property management system long back or picked up a new generation cloud based PMS for your hotel recently. Earlier, PMSs were used only by larger brands as it involved huge investments in IT and needed specialised manpower to run the systems but in the last decade numerous low-cost cloud-based hotel PMSs flooded the market with tools to empower the small and midsized hotelier with technology which is at par with the technology bigger brands use to acquire, service and delight their guests.
Travel technology changed so fast in the last decade that most hotel PMSs were rendered useless due to multiple reasons but predominantly their inability to integrate with online marketplaces. Newer tools came in to serve the growing needs of the current mobile first guests. While most of the hotel operations have remained the same, there had been a drastic change in the way people book hotels. Hence, it became vital for hoteliers to adopt news tools for acquiring, servicing and delighting their guests.
---
According to a recent study, 14% hoteliers replace their existing HMS because it is missing necessary features and functionality. Other 13% say their system isn't user-friendly. Another 12% were looking for integrated system meaning they want a comprehensive HMS that can perform all necessary functions, instead of using different systems for different tasks.
Going in detail to understand exactly why as hoteliers you should junk your existing PMS and opt for a robust PMS like eZee which integrates your hotel operations, online distribution, revenue management and much more.
Your existing PMS doesn't integrate with online tools

:
Are you stuck with a PMS which doesn't integrate with online room inventory distribution channels like OTAs, web booking engine, GDS in real time? Does your hotel PMS allow you to collect guest feedback and reviews? Do you want to provide self-service mobile guest portals to your guests but can't because the old PMS doesn't support the integration? These may be one of the many reasons you may want to junk your old PMS in exchange for a new age PMS. Look no further than eZee which allows you to sell in over 100 online marketplaces at the click of a button. Who wouldn't want to increase brand exposure and get bookings from multiple sources?
You have disparate systems:
You might have invested in various tools over a period of time which do not communicate with each other. Now you and your team spend a lot of time managing data from multiple sources and making sense of it. For example, your POS may not be integrated with PMS and hence you may have to look at 2 different systems for billing a guest during checkout.
Do you spend your time managing data from multiple sources and making sense of it?
Isn't that cumbersome?
It's time to switch to a robust hotel management system which integrates with all other systems and gives your staff a holistic real-time picture of the operations.
Anytime, anywhere access:
Your existing PMS may not allow you to view reports or manage your hotel from internet enabled devices. If you have multiple properties to manage, wouldn't it be convenient for you to adopt a new system which allows you to manage the hotel from anywhere, anytime.
Are you paying through your nose for a system which makes your profits bleed every month?
Are you paying through your nose for a system which makes your profits bleed every month. If high OTA margins are something you can't avoid then cut down on costly technology. More so, if you are investing in costly hardware and high monthly maintenance charges. Opt for eZee Absolute and forgo costly hardware installation and maintenance costs.
Time to make some serious money!
If you are working with a PMS company which takes days to respond to issues, then it's time for you to find a PMS company which provided 24×7 support and can help you manage issues real-time. Delayed resolutions, hurt businesses and you shouldn't be stuck for too long with a bad service provider.
Best-in-class technology:
Technology is changing rapidly and if your existing system hasn't been able to keep up, then it's time for you to junk the old system and buy the latest. The only word of caution here: avoid standalone systems which do not integrate with other tools.
5,000 hotels from over 140 countries worldwide use eZee's top notch technology to run their hotels profitably. Talk to eZee today to choose a hotel management system which works for you. And the best part, we take care of all your data migration and system switchover issues.
If you run a small and midsized hotel and don't use a PMS, then this might be the best time for you to adopt a robust PMS which can cater to your hotel's growing demands. Learn why hoteliers worldwide are choosing eZee for their hotels. Don't procrastinate and take the first step by taking a free trial of eZee cloud PMS. Embrace the powerful eZee PMS technology and grow your hotel business.
More post