How to get a quick ROI on hotel software?
April 2, 2016 eZee Technosys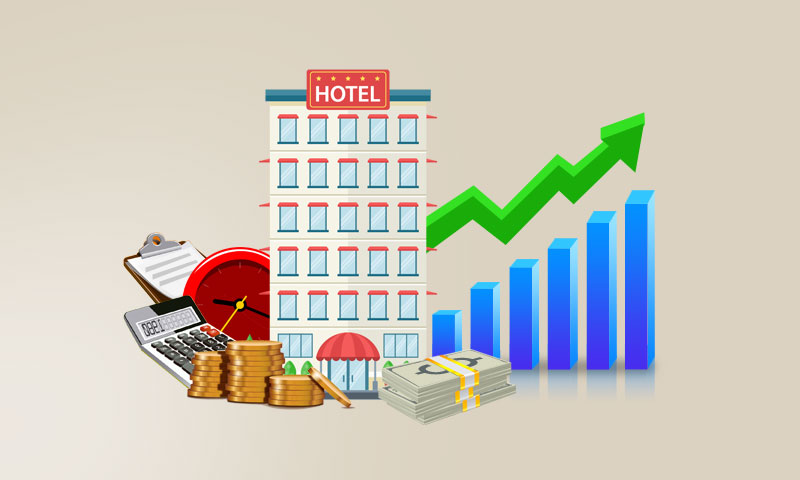 Apart from building or acquiring the hotel itself, procuring appropriate hotel technology is one of the most expensive investment a hotelier has to make. It is not easy to get the best property management solution, it involves a lot of research, examining each of your needs and requirements, financial planning, testing the solution at your property and more.  As I said it's not an easy decision to make. However, it's a decision your hotel cannot live without because you want to spend your time enhancing guest experience not keep assembling data and trying to make sense of it.
Without an efficient all-in-one hotel software, you will not be able to automate and streamline all hotel operations, boost revenue, ensure maximum output from hotel staff or enrich guest satisfaction. Most of all there are chances that it will greatly affect your ability to run a successful hotel business.
If hotel technology seems like a huge expenditure, keep in mind it also brings in means for quick revenue. The yield will not only be in direct monetary measures but also in terms time saving and various other microscopic measures.
Let us see how you can get Quick ROI on hotel software
Diminish requirement of human resources
As a hotel management solution automate a majority of hotel operations it helps you reduce the capital spent on human resources. It even frees the hotel staff from running basic operations to focus on guest interaction.
Depending upon the size of the hotel and the services offered by you, a comparatively smaller amount of staff can also easily perform the operations through a powerful HMS.
Reduction in man hours spent on performing routine time-consuming tasks like check-ins, check-outs, billing, reports etc.
Moreover, the all-in-one system also saves time by computerizing the process of distributing rates and availability across multiple booking sources such as the OTA, GDS, hotel website and more.
Increase in Hotel Revenue
Your online reach is amplified, thanks to the 100+ travel booking channels connected with the channel manager and unlimited direct bookings from hotel website.
Through booking engine, accept unlimited commission-free bookings from the hotel website, which are updated in your PMS and associated OTA in real-time assuring that you miss no bookings.
As all the changes are updated in real time, you can publish your hotel's entire inventory online resulting in amplified bookings.
Adequate Revenue Management
Manage different rate plans and get access to comprehensive market behaviour analysis to efficiently manage hotel revenue and increase returns.
Providing you with exhilarating profit margins, a feature rich PMS like eZee Hotel Software comes with a powerful tool for revenue optimization.
You can keep a lookout on your competitor's rates, compare previous year's rates and evaluate the Best Available Retail Rate (BAR).
Minimizing losses and human errors
Worst way to lose money in any business are the involuntary errors such as glitches while manually updating inventory on connected OTA site. It hurts credibility, attracts heavy penalties and worst you lose the guest's trust.
When you distribute inventory from Channel Manager to OTA, there is a delay of a nanosecond, whereas, when you have to update from PMS to channel manager and channel Manager to OTA, your delay will be doubled.
Utilizing an integrated channel manager and PMS greatly minimizes the chances of those inaccuracies. It helps in reducing the delay and ensure minimum overbookings or any other faults due to the delay.
As all your systems are interlinked, your data is consolidated. Thus reducing the chances of incorrect decisions derived from disparate data and undeniable human errors. Thus, hotel software will easily get you a quick ROI.
The long run benefits
A hotel management software keeps you in par with the latest hotel technology, this in turn helps you offer your guest exquisite hotel experience in terms of feasibility and convenience.
A happy guest will surely wish to return to your hotel as well as provide you a positive feedback on various travel review sites like TripAdvisor and more.
Higher positive reviews will increase bookings as other onlookers will consider the positive reviews and be inclined to book at your hotel.
Additionally, an advanced PMS like eZee helps you save money due to the availability of 350+ third-party hardware and software interfaces.
In the long run, you can acquire a strong guest database for which you can run numerous promotional campaigns and obtain returning guests.
The above scenario was to give you a glimpse on how you can get a quick ROI on hotel software. However, it is our moral obligation to show you the other side as well. Apart from missing the above obvious mentioned benefits, not having an integrated PMS can cost you a lot. Let me paint the picture for you.
Just imagine if you pay your front desk agent $7/hour. As per that, you pay your staff $14/ day for a simple task of night audit. That sums up to $350 in a month (25 days) and $4200 per year. On the other hand, with a PMS your staff can complete the night audit in 2 minutes. Thus, the same task would have cost you just $70 per year
Through a PMS your staff can perform the same task in less than 1/4th of the time it takes to do manually!
That means you currently spend 3X more time and money which you could utilize in other benefiting operations instead, thereby helping you obtain more revenue.
In terms of money, by investing in a PMS the amount spent on human resource for a particular task is reduced by 3 times.Without an adequate hotel system, you are also throwing away a copious amount of money and losing resources. Let me show you how.
Just imagine if you pay your front desk agent $7/hour. As per that, you pay your staff $14/ day for a simple task of night audit. That sums up to $350 in a month (25 days) and $4200 per year. On the other hand, with a PMS your staff can complete the night audit in 2 minutes. Thus, the same task would have cost you just $70 per year.
I can continue showing you the numbers or ask you to come out of the stone ages and try eZee's all-in-one hotel management software yourself.
Unlock the door to your hotel's success today!
More post