Adapting a right PMS can upgrade the comfort level of Hoteliers to a next level!
August 24, 2016 eZee Technosys
Seldom will any hotelier refuse that a 'Property Management System (PMS)' isn't important. However, when it comes to investing in the technology that boosts the productivity and maximize their profits, many of them are hesitant to upgrade because of various reasons such as lack of capital or lack of IT knowledge and having techno phobia.
Time for hotel owners to start realizing that orthodox strategies won't be felicitous to the unique upcoming situations
In this constantly growing hospitality industry, this is the right time for hotel owners to start realizing that orthodox strategies and lack of up-to-date technologies won't necessarily be felicitous to the new and unique upcoming situations. Hotel owners who haven't subsidized their properties in terms of latest technologies can find themselves under-prepared for the escalated workload and sticky situations due to human error that comes with manually updating rates and inventor received from various channels.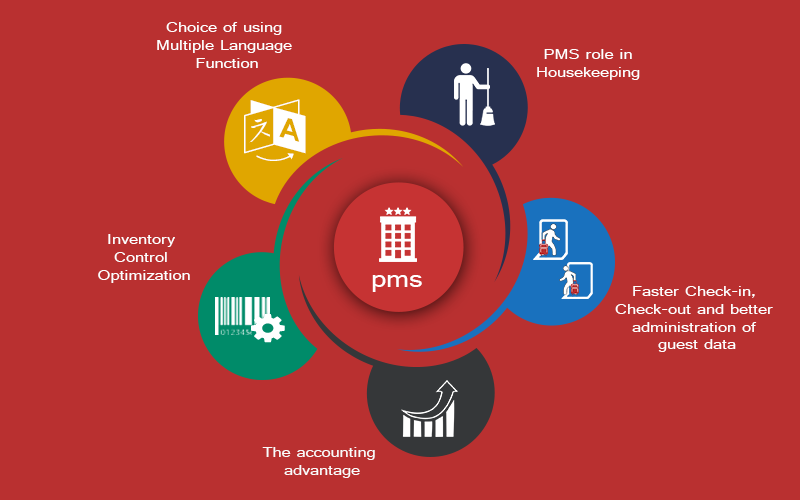 The advantages of integrating booking reservation software are countless and some of the key benefits have been classified as under:
Inventory Control Optimization

–

One of the key benefits of an enterprise-level PMS is superior system reporting. Software that keeps the track of inventory identifies the areas of waste thereby ultimately saving the money for the property owner. Good software covers all round areas of operation because it is operation-specific, audit-based and performs guest-centric reporting. The system lets operators modify reports and ensures unswerving numbers across the whole operation.
Faster Check-in, Check-out and better administration of guest data –
It goes without saying that a standard 'Property Management Software' brings along precision of reservations, improved administration of guest data and enhancement of real-time room status. The booking software with its handy features assists in faster guest check-in and check-out as opposed to a cumbersome and time consuming manual process and the e-mail guest recognition of the profile database. Once the profile of the guest is known, their future visits can be personalized granting them a highly superior experience.
It goes without saying that a standard 'Property Management Software' brings along precision of reservations, improved administration of guest data and enhancement of real-time room status.
The accounting advantage-
The PMS with its inbuilt feature of accounting is truly a multifaceted software that connects with the bank and Paypal to import the statements. The book-keeping assimilates with the PMS to get City Ledger data, track the due date as per the payment terms and conditions and keep up a check on the cost payable for commissions following any deductions in terms of tax or surcharge. All other accounting work such as cash, cheques, credit card, POS receipts, discounts, OTA commissions, refunds, promotional offers and corporate accounts can be directly reconciled with the bank statements with the help of PMS. This ultimately excludes and decreases the errors related to double entry which is highly probable while doing manual entries. All in all, a well-integrated PMS maintains all the statistical data regarding the hotel's revenue, receipts and payments that can be seamlessly integrated with the accounting system.
Choice of using Multiple Language Function –
A good hotel software empowers you to use the system with a choice of multiple languages. Even if the hotel staff is not congenial with English as a language, the reservation software comes with the option of three languages. This can also be customized according to any language of the world by changing the words used in the software as per regional requirement. It is actually easy to alter the language through the 'Change Language' button with a single click!
PMS role in Housekeeping –
'Housekeeping' is usually a tedious job and if proper care is not taken, hotels can find small or big mistakes in it especially when the workload is enormous. The PMS helps the hotel management in keeping a precise track on the housekeeping activities thereby ensuring that the guests do not face any issues related to housekeeping and they find their stay utmost pleasant and comfortable.
To summarize, it won't be an exaggeration if we say that a right PMS besides being proficient and designed for the express requirement of hastening the billing operations, has myriad of other advantages too like higher operational frequency, superior decision making, greater accuracy in accounting thereby reducing the revenue leakages and improved customer service and satisfaction.
More post